---
Asociación Numismática De Panamá
Numismatic Association of Panama
---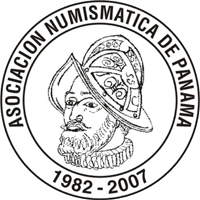 The Asociación Numismática De Panamá (Numismatic Association of Panama) meets locally in the Republic of Panama. Most recently I have been told the club meets in the Restaurante Nikos del Dorado (Nikolandia) on the second and fourth Wednesdays of the month at 7 PM. There is a yearly membership fee. For more information, I suggest contacting Nikos Liakopulos via or Panama City phone number 223-0111.
---
XI Feria de colecciones numismáticas (2007)
---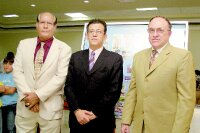 Manuel A. Chepote, tesorero; Juan Carlos
Jiménez, presidente y Víctor Guindi
Estimados Socios y Amigos:
Queremos comunicarle que pronto se realizara la XI Feria de Colecciones, en el Salón Portobelo del Hotel El Panamá, del 30 de agosto al 2 de septiembre de 2007. Durante el evento se realizaran charlas y exhibiciones: Numismáticas, Filatélicas y Memorabilia.
Atentamente,
Juan Carlos Jiménez
Presidente
Desde hace varios años, la Asociación Numismática de Panamá organiza esta actividad, con la intención de que el público conozca los detalles y cambios que ha sufrido nuestra moneda, desde el nacimiento de la República hasta nuestros días.
Featured speakers this year will include Jorge Proctor (Panama Colonial Coins) and Joaquin Gil del Real (Billetes de Panama). The fair is free, no entrance fee.

make custom gifts at Zazzle
---
Nuestra actual Junta Directiva es:

Juan Carlos Jiménez, Presidente
José Gabriel Mata, Vice Presidente
Manuel Chepote, Tesorero
Luis Alberto Davis, Secretario
Javier Fernández de la Reguera, Sargento de Armas
Jorge Garces, Vocal
Nicolás Liakopulos, Vocal
---