---
Military Tokens: Panama Canal Zone
Fichas Militares: Zona del Canal de Panama
---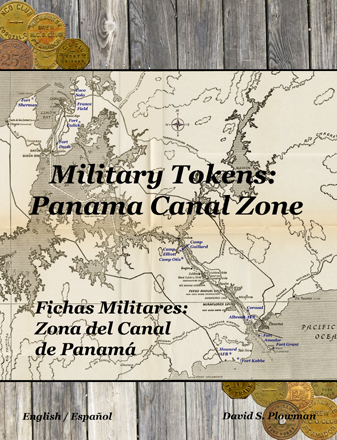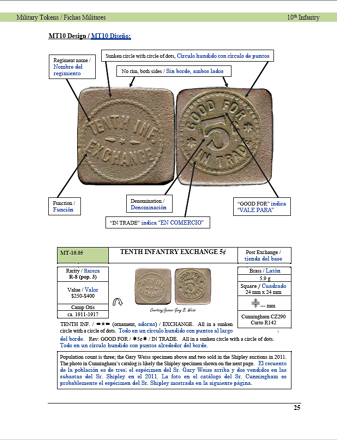 Deluxe Complete Catalog of the Panama Canal Zone Military Tokens
An illustrated, priced catalog of the military tokens used in the Panama Canal Zone from 1903 to 1999. Over 100 tokens described in detail, almost all with photographs. Numerous new discoveries and tokens never before cataloged. Extensive index to make locating tokens a snap. Written in both English and Spanish.
In this book, Panama specialist David Plowman takes on the military tokens of the Panama Canal Zone. It covers all known 118 tokens which includes new discoveries, 44 more than any previous work. The tokens are covered in great depth with color photographs, measurements, history and photographs of the Canal Zone bases and units which issued the tokens, cross-references charts, pricing trends and much more. It's the complete guide to military tokens of the Panama Canal Zone.
Military tokens are coins issued for as money substitutes for use by members of a military entity. Many military tokens were issued to pay for meals in a cafeteria (or mess hall) setting, or to purchase items at a post exchange (similar to a general store). The tokens might be used to extend credit, as gift certificates, as a mean of giving a discount or to assure sufficent small change. Tokens were issued by Albrook AFB, Howard AFB, Corozal, Fort Amador, Fort Kobbe, Fort Davis, Fort Gulick and Fort Sherman. Going further back in time to the first years of the Canal Zone, there were also tokens issued for use by the marines at Camp Elliott, the 10th Infantry at Camp Otis, the 29th Infantry at Camp Gaillard, the field artillery units at Fort Grant and the submariners at Coco Solo, and more, all of which are covered in this book with histories of each base or unit.
The book is US Letter (8.5 x 11 in / 216 x 279 mm) and 244 pages in length. A number of tokens are colored, so only color formats of the book were published. The three different formats available are paperback, hardcover and premium color (instead of regular color).
The book can be ordered from the publisher lulu.com from the links in the table or the author spotlight. Several major online distributors including Amazon.com carry it, but not in all formats.
In Panama, my friend Eduardo Lay serves as my distributor. You can reach him via this link.