---
Tokens of Panama
Fichas de Panama
---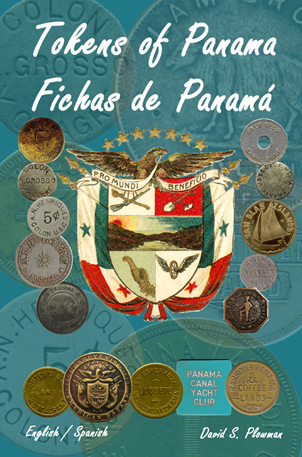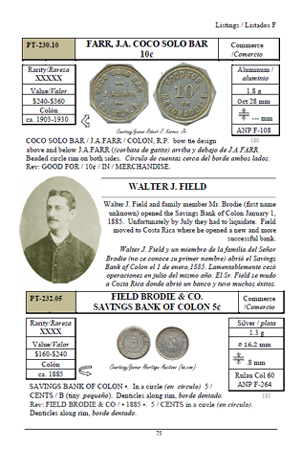 The Most Complete Guide to Panama Tokens Ever
An illustrated, priced catalog of the tokens of Panama from the days of the California gold rush (1849) to date. Over 400 tokens described in detail, almost all with photographs. Many new discoveries and tokens never before cataloged. Extensive index to make locating tokens a snap. Written in both English and Spanish.
Panama tokens are privately issued coins used or intended as money substitutes. In Panama, tokens have been issued by coffee plantations, mining corporations, retail stores, a telephone company and others. The tokens may have been used as payment for a quantity of work redeemable at the company store, as a discount coupon and other uses. At times tokens helped alleviate a scarcity of small change. This catalog covers those tokens issued within the borders of present-day Panama, whether they were issued before or after independence.
Entries include a photo and description, token type, rarity, catalog value, locality where used, approximate date, material, weight, diameter, thickness, orientation and other catalog numbers. Some entries include histories or photos of the person or company issuing the token. The tokens are grouped into those issued before 1980, modern tokens issued in 1980 and after, and "dubious" tokens, meaning those that might not be from Panama.
The book is U.S. Trade size (6 x 9 in / 152 x 229 mm) and 188 pages in length. The book is available in three different formats shown in the table.
The book can be ordered from the publisher lulu.com from the links in the table or the author spotlight. Several major online distributors including Amazon.com and Barnes & Noble carry it, but not in all formats.
In Panama, my friend Eduardo Lay serves as my distributor. You can reach him via this link.